Science Week
Sincere thanks to Joanne McMillan and her Post Grad students from Tralee IT for visiting us today and bringing the world of science alive in our school. Children had opportunities to look at 5 stations.
1. Microscopes looking at actual dead insects (none poisonous) and also human cells donated 40 years ago to the college. Children learned the importance of testing on human cells first before on the actual person.
2. Acidity. Using litmus paper, children saw various liquids being tested for their pH levels. Coca Cola, mouthwash, bleach, lemon juice, vinegar to name a few.
3. Lava Lamp table- water and food colouring was at the bottom of these tall glass tubes and oil was mixed in which floated to the top. A reaction kept happening at the bottom giving off carbon dioxide and bubbles were going crazy inside the glass. It was fascinating to watch. M&Ms were also at this table, and we saw how hot water made their colour dissolve. This colour was able to be collected by paper afterwards.
4. Projector table. On the large screen, children could see augmented reality, large scale, when handling a cube (merge cube). Using a planet app, it looked like children had planets in the palm of their hands, while they were really holding just a cube. 2 tablets were also at this station, with fun interactive touch screen games.
5. The DNA table. Children were able to build models of DNA cells on this table. It was really colourful and loved by the younger kids.
Thank you so much to Ms Olivia O'Shea and time all at Tralee IT for today.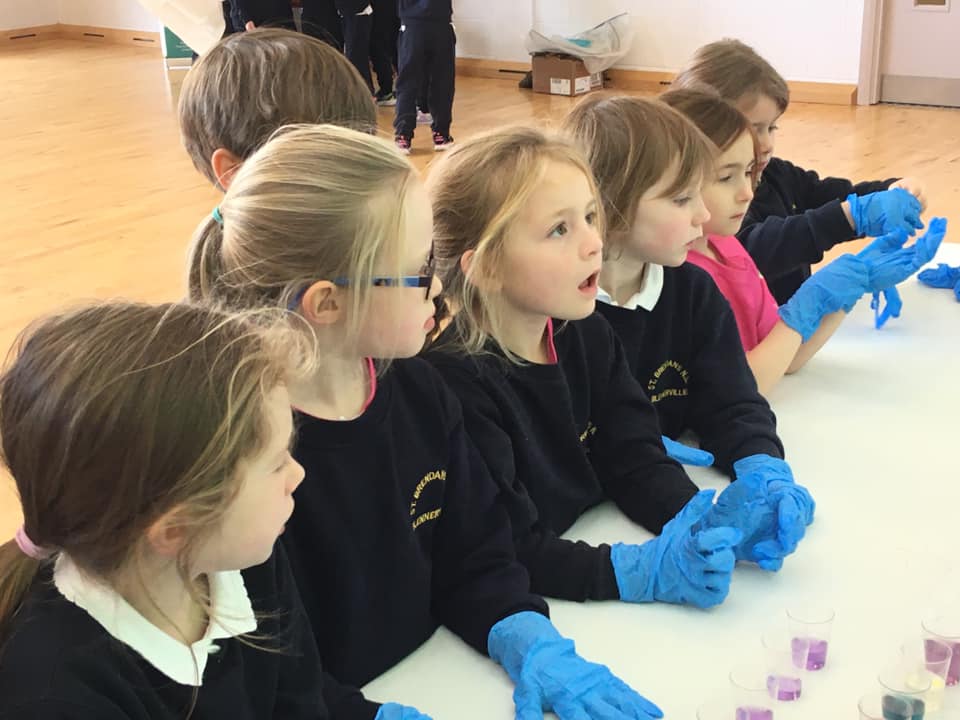 Click here for some Junior Infant class science pictures.