Results Are In!
These are the results from the 'Where do you live?' survey. These results were put together for us thanks to Angela Wall of Green-schools. What a fantastic job she did. Thank you to everyone who filled in and returned the map.
See if you can find where you live on the map and see how many children live near you. We hope to begin a Cycle Bus once the weather improves and mornings get brighter. This map shows a proposed cycle route.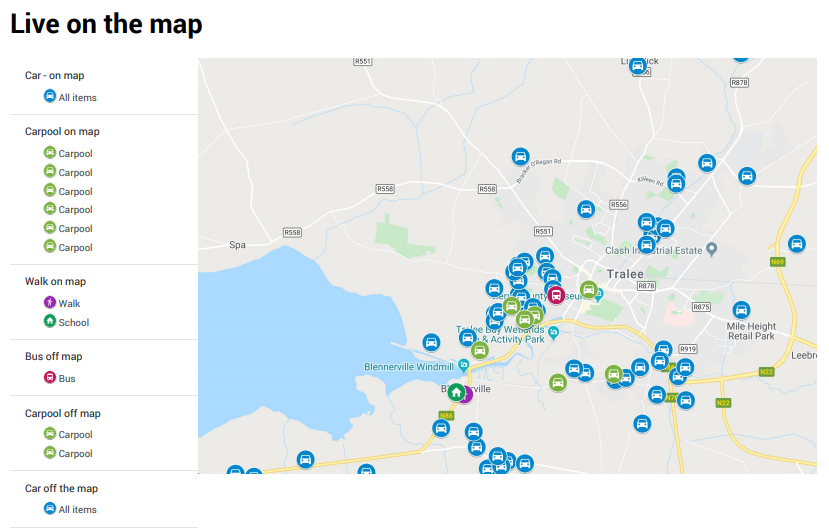 This map below shows you where we all live.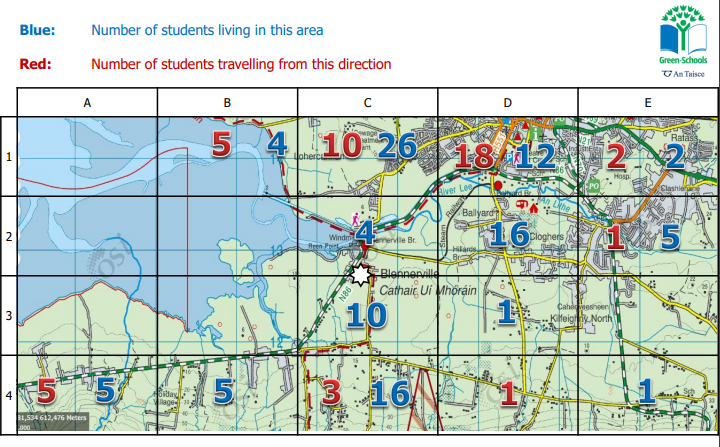 Finally here are the results from each class surveyed of where they live on the map: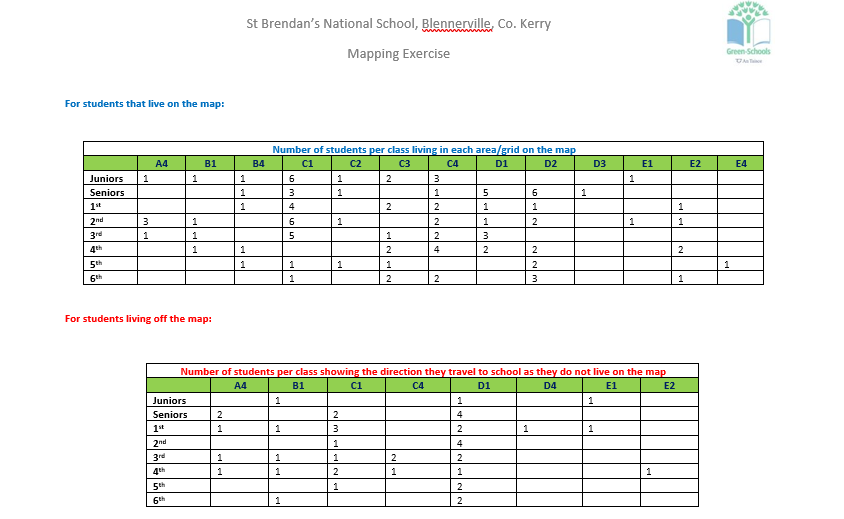 Walkability Audit 20/11/2019
Today we had a fabulous morning with Angela Wall of An Taisce, Green-school. We were joined by parent (Lauren's Mom) Julianne and the Travel Committee. Angela divided us up and gave us all clipboards and jobs.
1. Measuring footpaths was done with the aid of a measuring tape by engineers of the future James, Dara and Ródhan. They did a phenomenal job and found that footpath widths really varied throughout the village.
2. Road signs. This survey was done by Kerri and Hannah O'S who did a tally of road signs in the village and they even noted signs that were not on the list.
3. Passing traffic tally. This was done so well by Conor, Shane and Tara. There was a LOT of traffic to count.
4. Things to note. Along the route, Lauren, Hannah P and Julianne wrote down any observations along the way. They did a super job filling an entire page.
5. Problems and issues. Well done to Elizabeth and Claudia who took notes of any problems along our walk such as window ledges jutting out and a pole in the middle of a footpath which people could crash into so easily.
6. Litter and waste audit. This was done by Ciara H and Holly who noted a LOT of plastic bottles along the route and many tin cans too.
7. Feedback. This was done singlehandedly by Conor C who answered a series of yes and no questions about footpaths and roads after the walk was complete.He looked at cracks on footpaths and ramps and steps.
The committee were pleased in general with our clean air and the safety of the school. It is well fenced and there is a pedestrian crossing which we timed crossing and the settings on it are correct to allow you to cross in time. However, we found the crossing at the station house, the green man is broken for crossing. We found lots of cracks in the pavement outside the windmill along that path. We thought that traffic was driving a little fast and Julianne observed on many occasions, speeding in our set-down area. Angela promised she would return to us in February with a speed gun so we can act like guards for a day and check the speed of passing traffic. It sounds like a lot of fun! We are really looking forward to Angela's return then. All members were presented with a Greenschool badge and Angela gave Ms Brassil lots of prizes that we will award for the Water Poster competition. We will have in-school prizes and then post one from each class off to represent the school in the national competition. There is a fabulous black cycling helmet up for grabs. So children be sure to remind your teachers to enter it. Tell them the template is in the staffroom.
Click walkability to see all the photos from the day.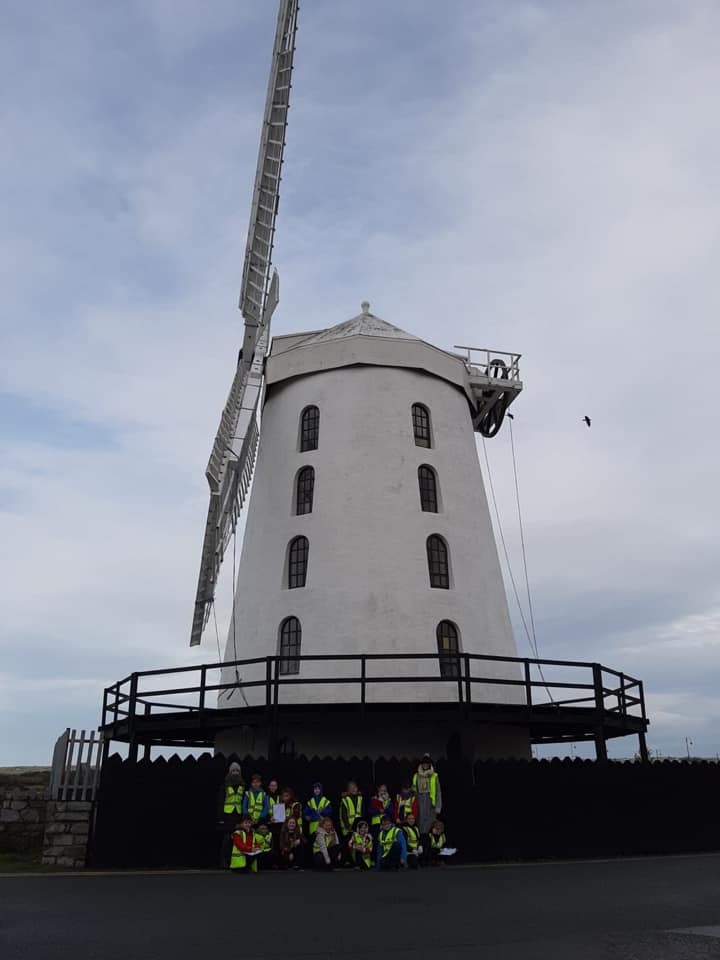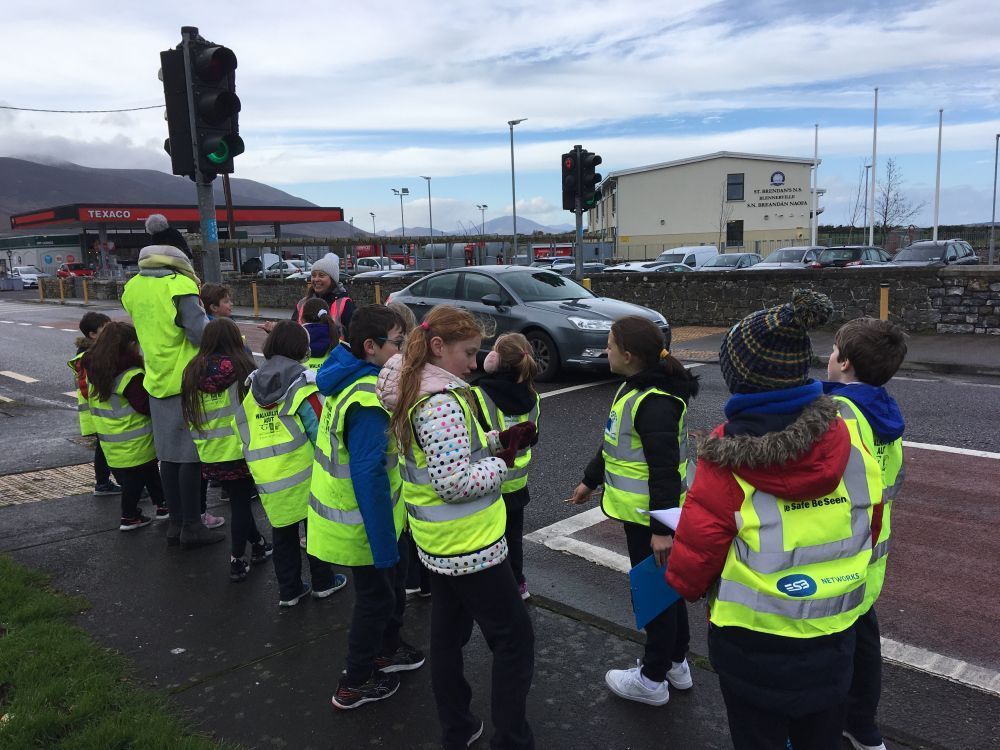 Here are the prizes for the Water Poster art competition on offer. Thanks to Angela for these and also to Garda Mary Gardiner for the Stay Safe Be Seen items which we will also award as prizes for this competition.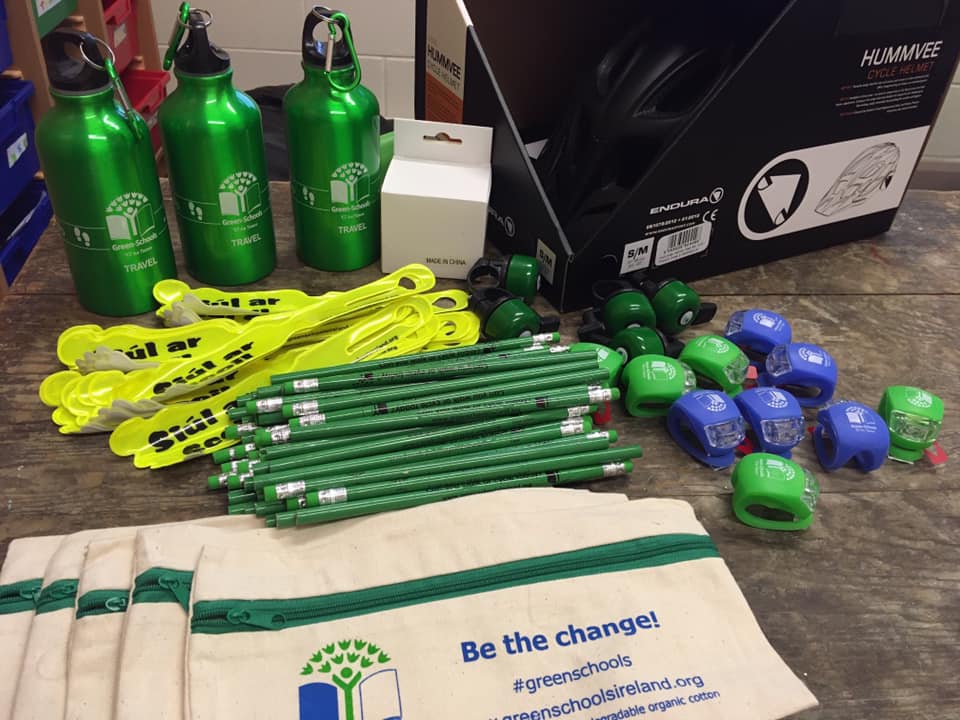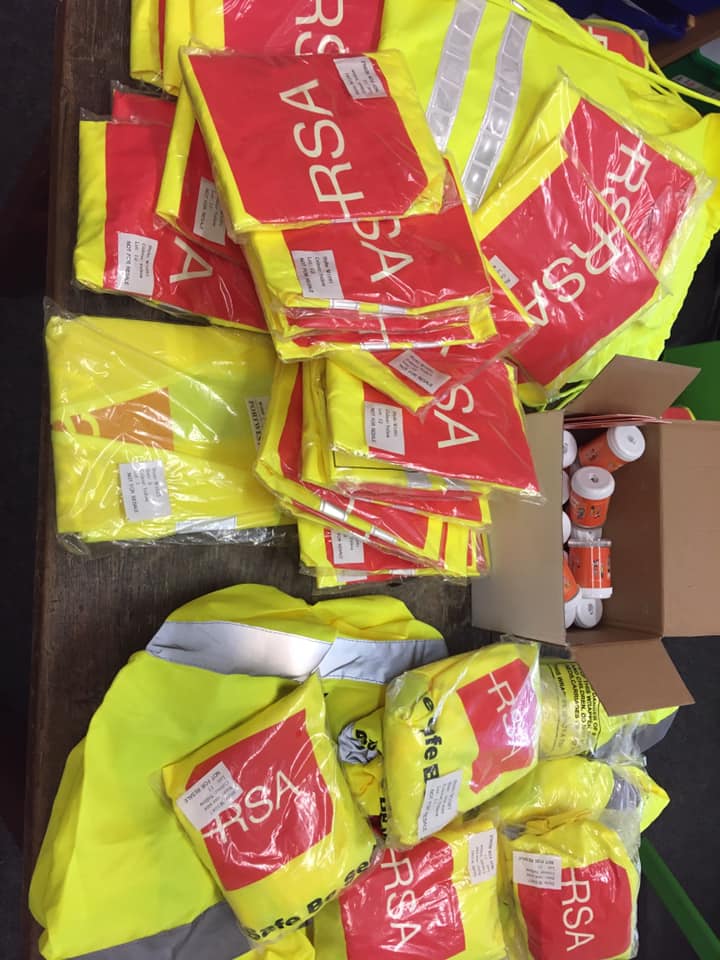 Water Poster Art Competition
There is a wonderful art competition based around the Water Greenschool theme with wonderful prizes. Apologies the poster is sideways but it refuses to go in upright! Just tilt your head! A template will be left in the staffroom for all teachers. Please ask your teacher if you can enter this for an art lesson some day before the end of February so Ms Brassil can post these off. We have always entered this competition and hopefully one day we will have a winner! So get those colouring pencils out everyone!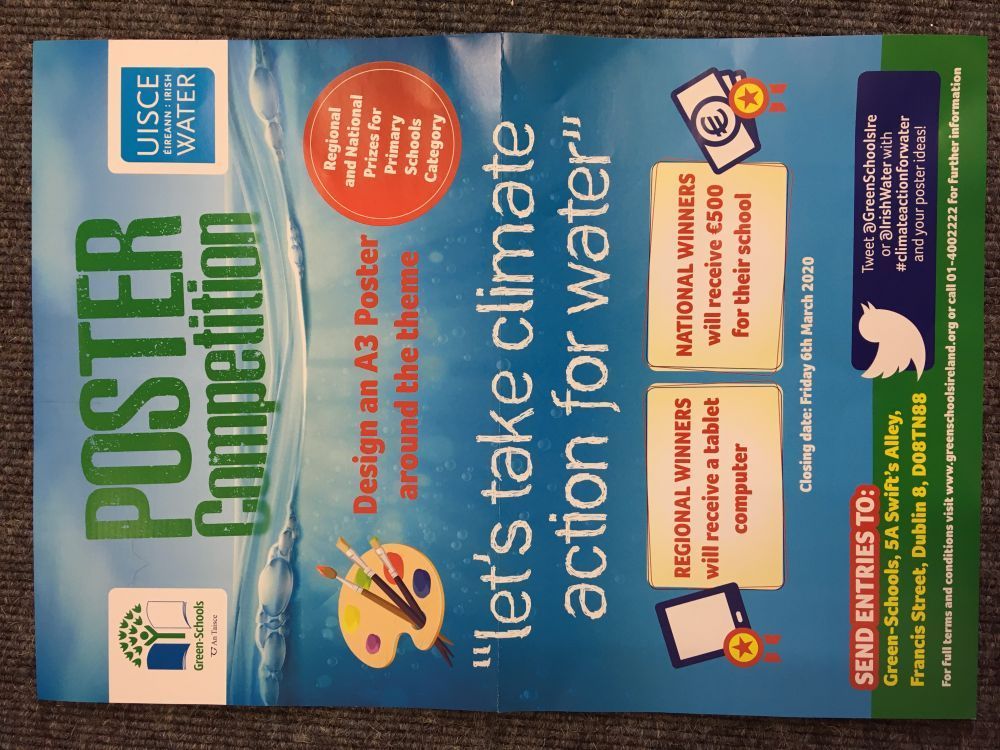 Clean Air Week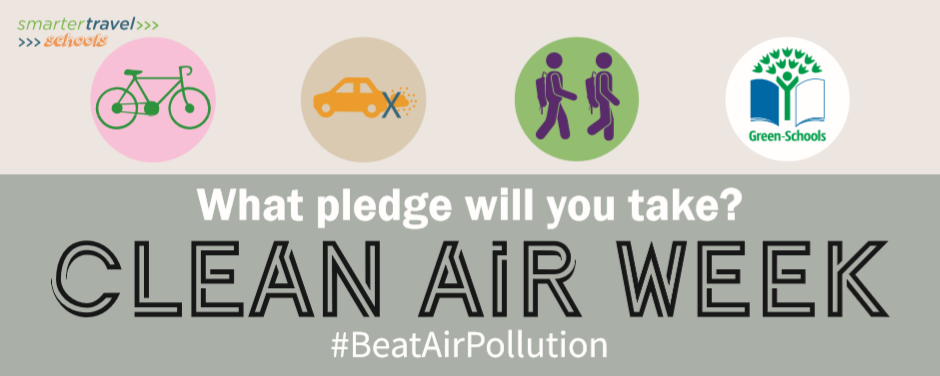 It is Clean Air Week from 18th to 22nd November 2019. We could do a number of things- we could start a 'no idling' campaign outside our school gate, or we could cycle or walk to school instead of making more trips in cars, or we could have a car free zone at the school gate! If any children in the school can make an effort at making the air cleaner by doing any of these things or anything you can think of yourself, please take a photograph and send it to Ms Brassil This email address is being protected from spambots. You need JavaScript enabled to view it. and you will be entered into a competition! Maybe you could take a picture of you walking or cycling to school. Let's make a difference everyone. Here is a little bit of information on how we could help with idling which is being in a car that is switched on but not moving anywhere. Engines should be switched off if not in use, as the emissions (smoke) cause air pollution.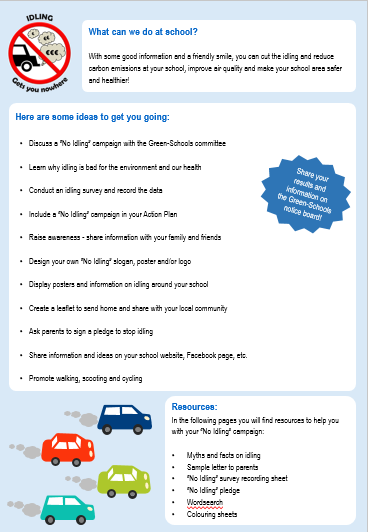 Travel Committee Meeting
There is a slight change to the Travel Committee meeting. It will now take place on Wednesday 20th November with Angela Wall from 11am to 12:30pm. Parents of committee members are welcome to join us for this if they wish. This is a week later than scheduled.
Travel Survey Results
News just in! Thanks to Angela Wall for co-ordinating the survey results for us. They are very interesting. A map is being sent home to all families on 5/11/19 to enquire about where you live with the view to starting a cycle bus to school, if possible and if safety allows. Please find this survey in the schoolbags and return it by Friday 8th November. Thanks everyone.
Here are the results from 24th October 2019.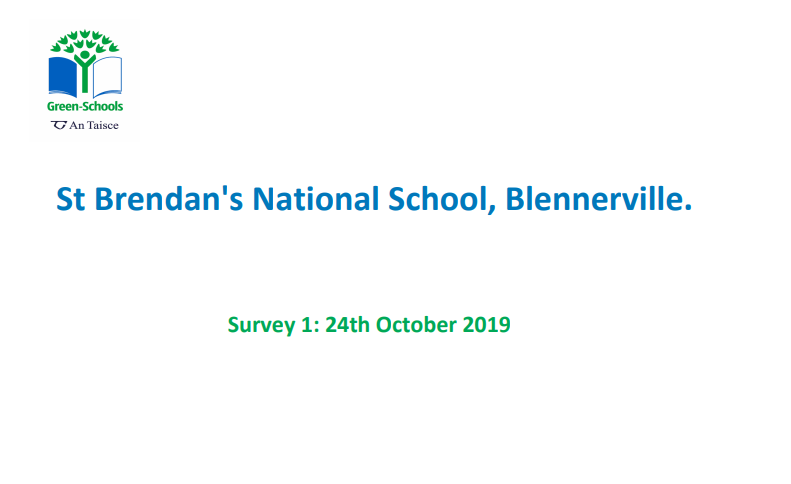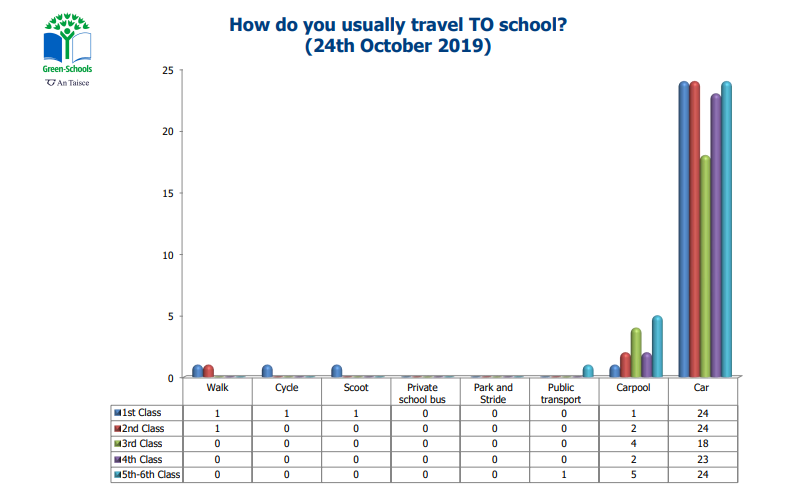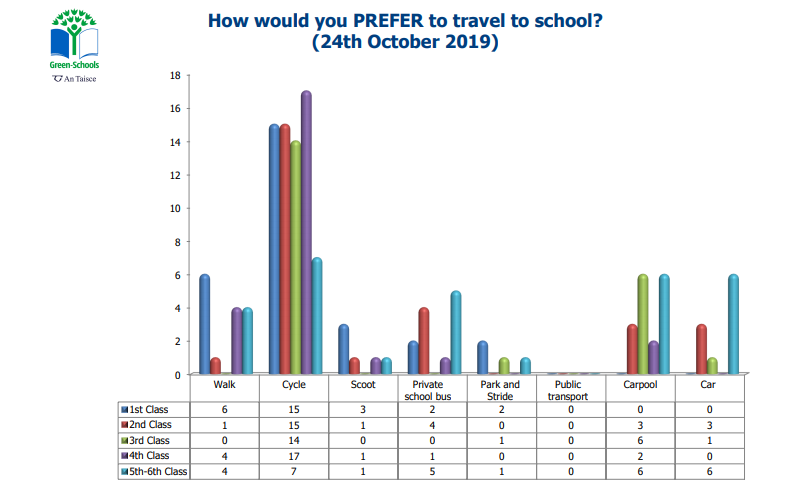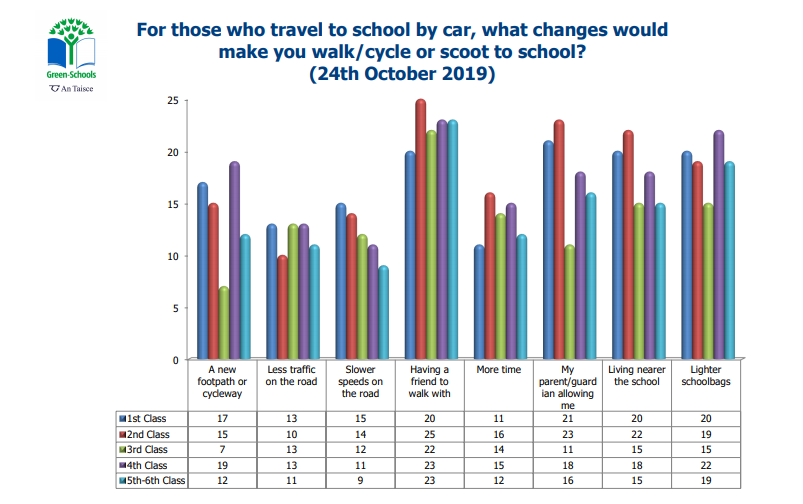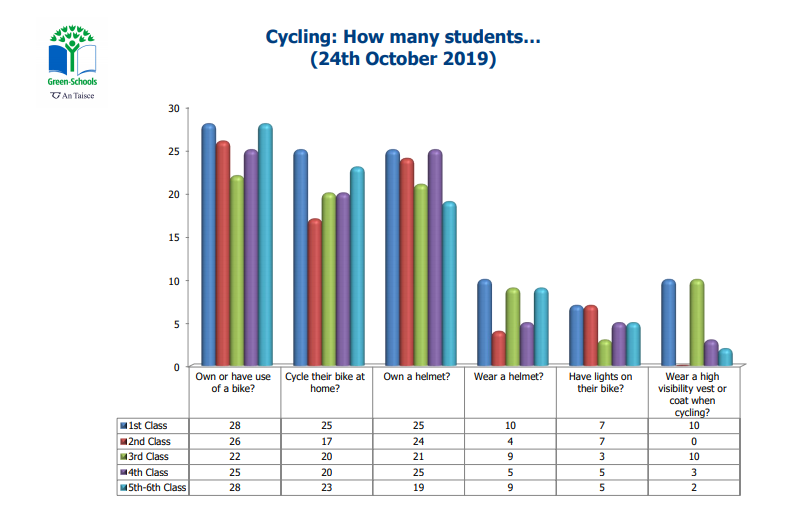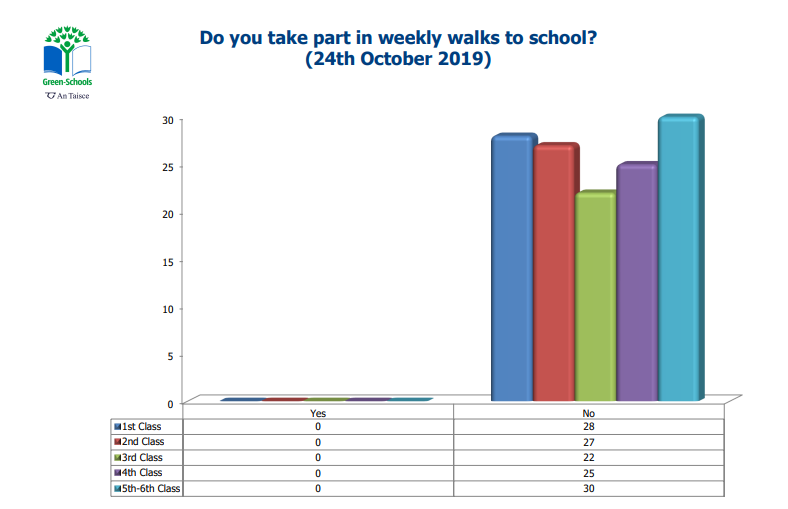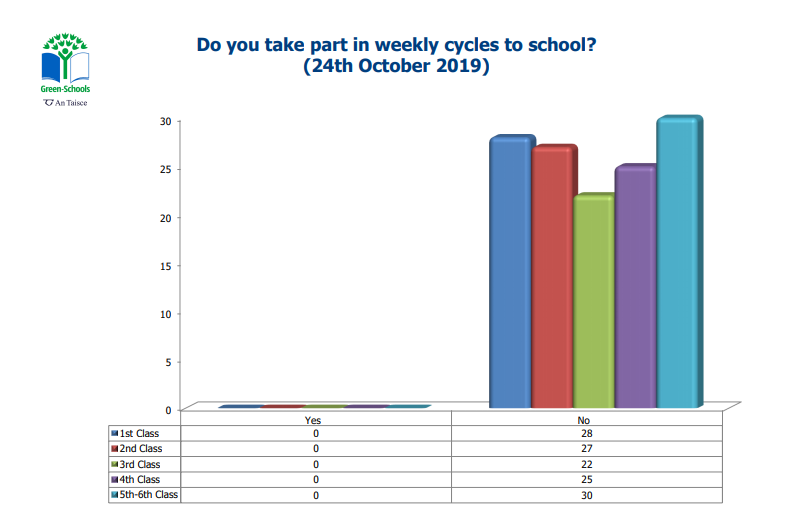 Angela Visits Us
Thank you so much to Angela Wall from Greenschools An Taisce for speaking to our 1st to 6th classes on 24th October 2019. Angela is our Greenschool inspector and is helping us correlate our Greenschool Travel survey results which she did through questioning the children today about the way they travel to school and how they would like to travel. Thank you Angela! See you again on 13th November with the Travel Committee at 11am. If any parents of committee children are free to join us on this date and time, that would be terrific.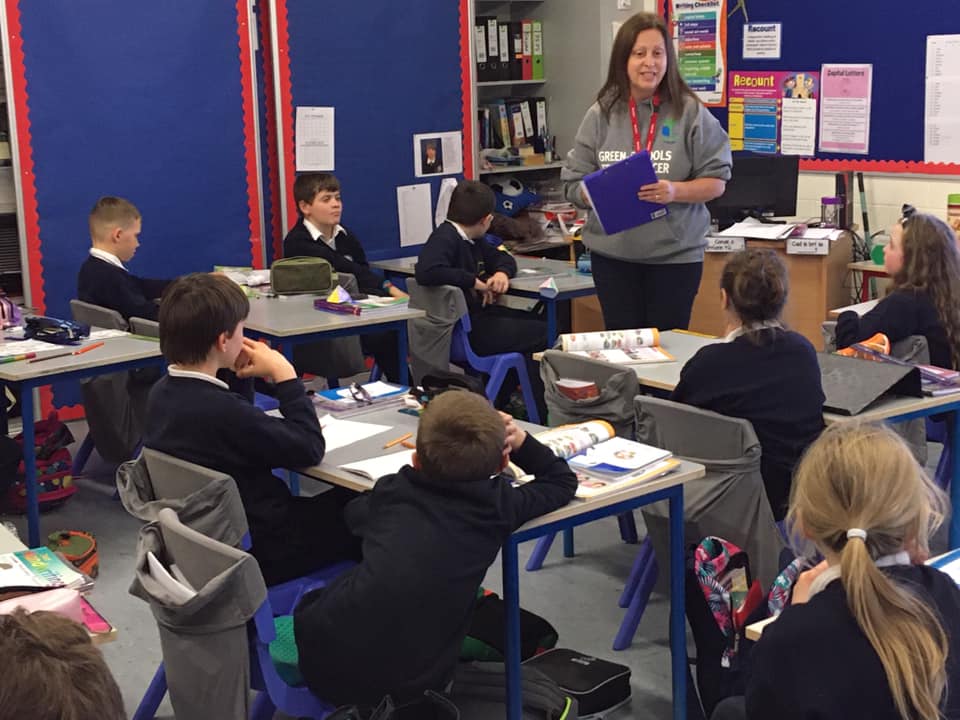 Witches Recycled
Witch making in Ms Roisin Doyle's 1st class using recyclables, fabric and fibre on 24th October 2019. This is very much in-keeping with our Greenschool! Well done Miss Doyle's class. Please click here to see an interesting article on items you can and can't recycle. Thanks to Ms Ryan for sending us these.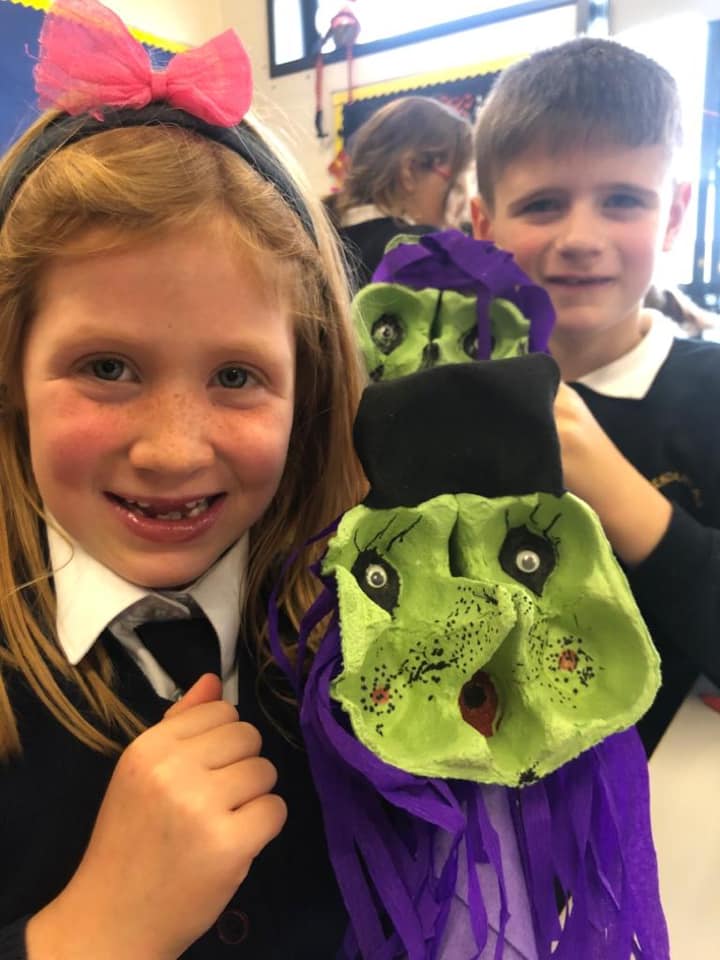 Litter Pickers
Thanks to our dedicated litter pickers who picked as much plastic they could from the yard and walkway to our school during the calm weather before and after storm Lorenzo at the start of October.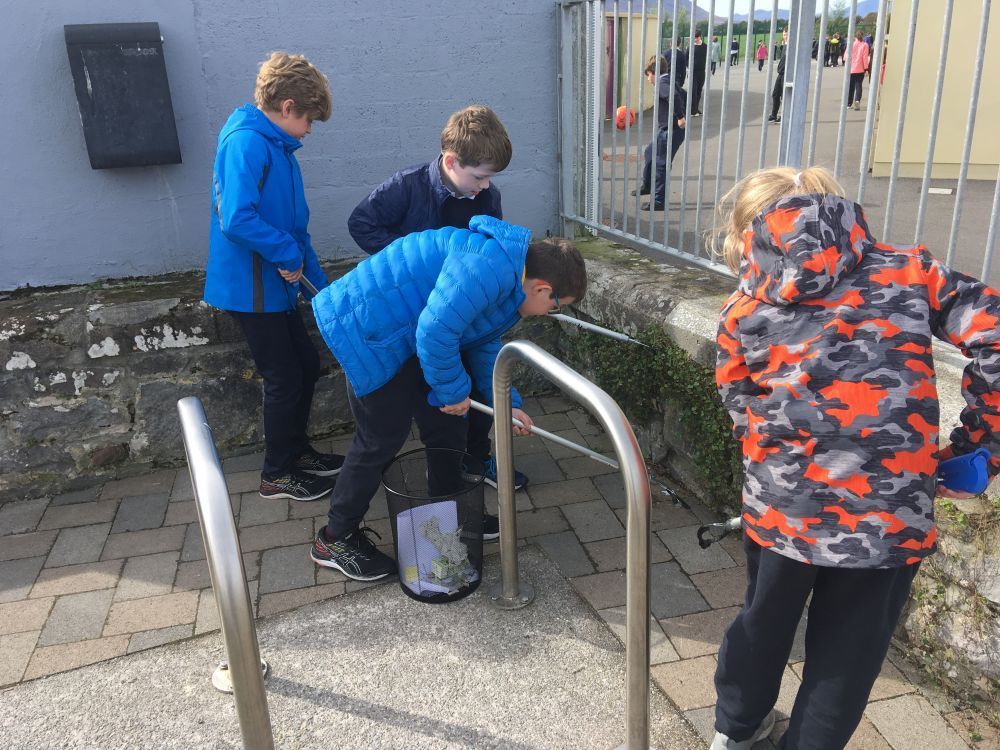 Greta Thunberg
Have a look at this short video of Greta Thunberg who is only 16 years old and making the world listen. Click this link: Greta Thunberg
Sail Boat Cars
Ms Olivia O'Shea's 4th class designed and made their own sail boat cars on 26/9/19. They investigated if the cars could be powered by wind energy (fan). The children really enjoyed the lesson as you can see from the pictures. This links nicely with our Greenschool Travel theme.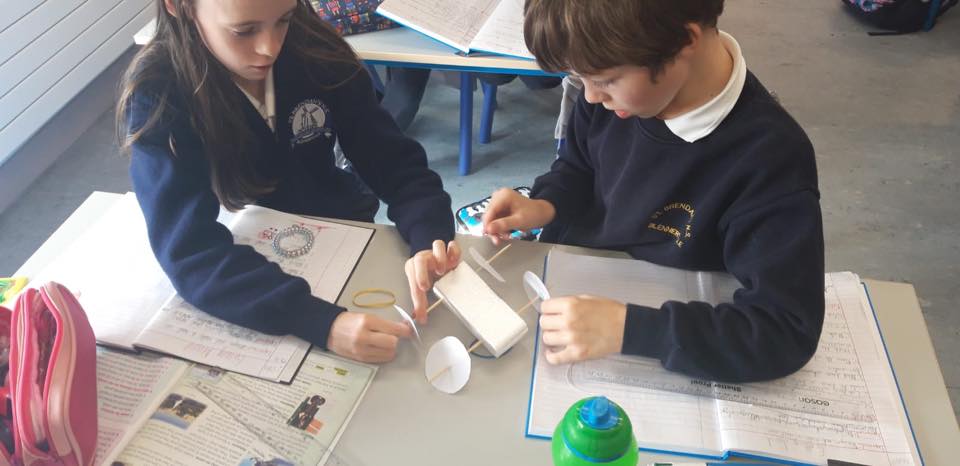 Thank You Angela Wall!
We have been so lucky in being selected to have Green-Schools Travel Education Officer Angela Wall going to visit our school on October 24th 2019 to help us with our Travel survey. She will visit all classes from 1st to 6th on the day spending a half hour with each class.
Thanks to parent Kerrie Keane who accompanied Miss Brassil to the Travel meeting with Angela and Dave on 25/9/19. It is going to be the best flag yet with plenty of links to safety, activities and our active school ethos too.
Travel Link
Well done to Ms Ryan's 3rd Class who did lovely art during September 2019 during an art lesson based on their history story of our school's namesake St. Brendan the navigator. He was one of the first of the travellers and didn't do any damage to the environment in his sail-boat.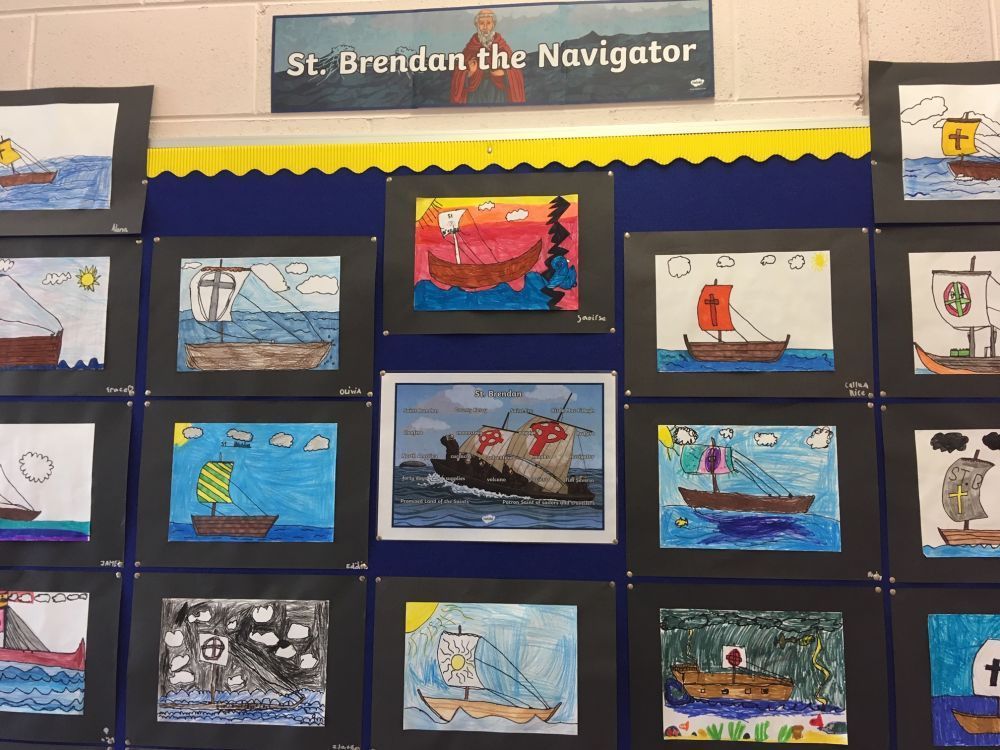 New Flag News - September 2019
We have just received the news that our new Greenschool flag theme will be Travel. We will begin this in September 2019 and work on this theme for 2 years.
It is time to give other children the opportunity to be on the Greenschool committee so at our meeting on 27th September, we will be saying goodbye to members and keeping the new members that just came on the committee at the end of May. I hope that the committee members leaving will all keep up their commitment to the environment by always remembering to reduce, re-use and recycle and to cut down on plastic!
Congratulations to new members Ciara Higgins and Tara Dowling who read this page in September 2019 and as a reward, get to join the Greenschool Committee for the Travel theme for the next 2 years!
Start thinking committee on how we can cut back on travel's impact on the environment or on how we might make travel safer for children coming to and from school. Date of first meeting will be Friday 27th September at 2:10pm in Ms Dinan's classroom.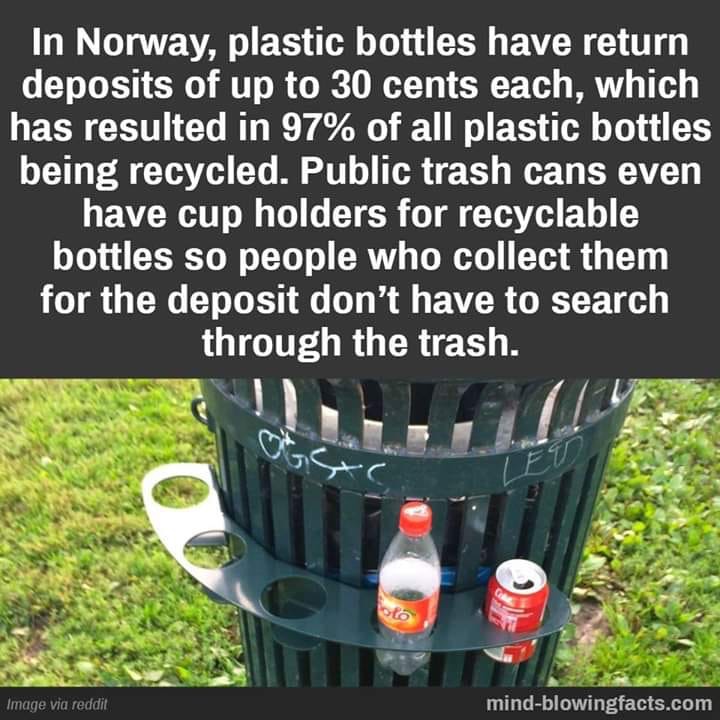 Greenschool September 2019
We began our Greenschool 'An Taisce' initiative in 2011. Since then, we have worked towards 4 flags.