Assembly 18/11/2019
13 members of the HPS Committee spoke about 3 issues on 18/11/2019 following a meeting led by Mrs Edel OSullivan last week. Well done to those children who spoke so well in front of an entire school assembly.
There were 3 main issues followed by a brief question and answer session.
1. Healthy lunch boxes. It was decided by the committee that one lucky class will win 20 minutes extra playtime in the yard on a fine day for one class.
2. The Daily Mile. To encourage more to run for more continuous laps of the school, we will now all have have running partners assigned to us to help us to keep running and get encouragement.
3. The Food Dudes. This will begin Wednesday 20/11/2019 for all classes. Children will be encouraged to taste and eat fruit and vegetables and be rewarded for their efforts with stickers and prizes.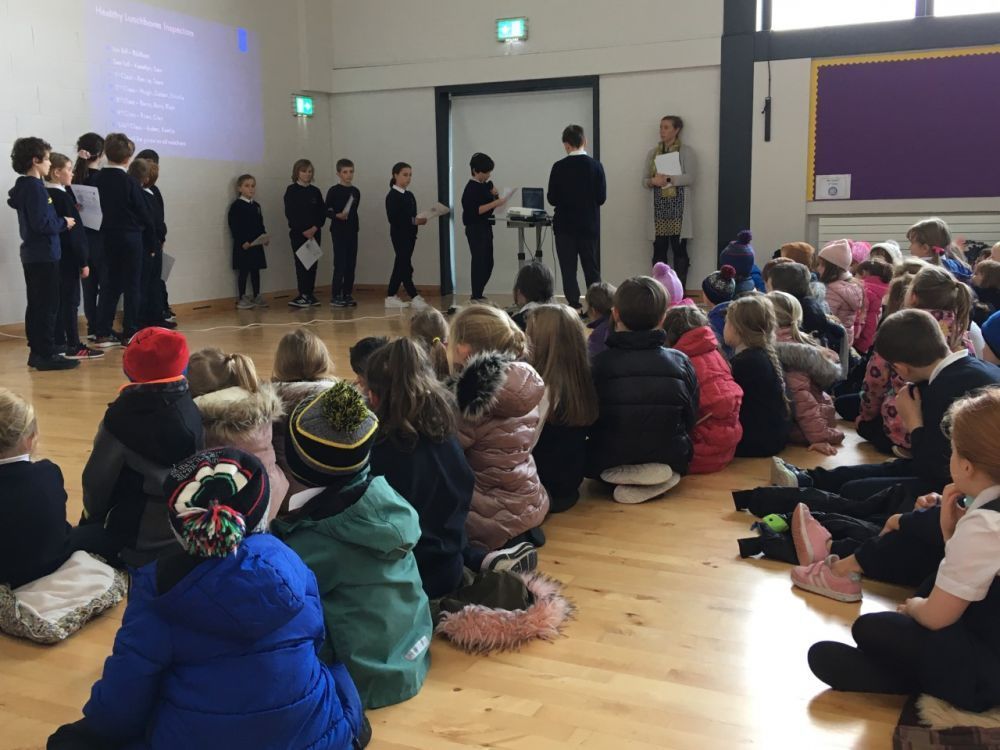 Details of HPS
We are a Health Promoting School since 2009. We renew this flag yearly and in 2018, Ms Edel O'Sullivan took over as our HPS co-ordinator. 2 members from every class are on this committee. Every class does an hour of Physical Education weekly. We also take part in the Daily mile initiative, whereby each class runs a mile a day. This entails running 7 laps of the school at an allocated time, every day. We also have an Active Week in June when we walk to school together from the Windmill and almost abandon books entirely for the week to make way for talks from sport celebrities on their careers and healthy living talks. We also do hikes and have a Sports Day and usually take classes on a physical school tour. Our school takes part in swimming lessons in 3rd and 5th class for a term each year. We have a great relationship with the local football club St. Pat's who are very good to us, allowing us the use of their astroturf and pitch, any time we need it. Our school has a huge interest in basketball and teachers Ms Sarah Dinan and Ms Olivia O'Shea coach children on Mondays and Tuesdays after school. In 2018-2019, we took part in the Junior NBA basketball coaching whereby our school was linked with the Memphis Grizzlies in the USA and we got to wear their kit for games, locally and even in the Tallaght Basketball Centre of Excellence. It was a fantastic opportunity for the children involved.